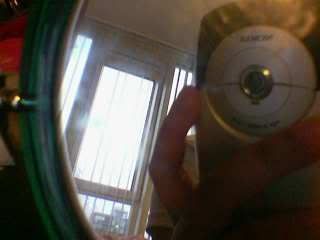 Oud Jaar
Ja,ja,ja... seperti biasa,postingan akhir tahun. Me-review apa yang aku lihat,rasa,dan alami setahun ini.Apa yang menonjol di tahun ini? Kalau mau disimpulkan, di tahun ini, ada beberapa dream comes true dan nightmare come true.
1. Internship
menjawab pertanyaanku tahun lalu, ga mau magang di Belanda dan Indonesia,suprisingly (not really surprise seh kalo ngejalanin sendiri), internshipku yang pertama di Belanda dan yang kedua -rencananya- di Indonesia. :P Ada beberapa faktor memang, yang membuat aku milih dua tempat itu.
Pertama
, yah realitas aja, dua tempat itu yang lebih mungkin dicapai.
Kedua
, soal ID card, ak males berurusan dengan IND dan teman2nya, cuman bikin capek ati, jantungan dan efek2 tidak sehat lainnya. Jadi yah mendingan, ak dapet ID card dulu, baru stage di luar Belanda.
Perjalanan dapetin stage di Belanda? Walah.. penuh dengan air mata dan keringat alias susaaahhh banget, apalagi jurusanku, orang2 di Belanda lebih seneng (untuk bidang komunikasi) orang yang bisa basa belanda dibanding Inggris. Tapi, emang semuanya ada hubungan dengan jodoh-berjodoh. Alhamdullilah, ak dapet posisiku sekarang meski masih banyak tantangan sebelum 'bener2' resmi. Jadi intinya cuman satu, AKU BENCI BIROKASI BELANDA! RIBET!!!
2. Love Life
bagi orang2 yang penasaran ama cerita gimana aku bisa jadian ;) (
yah kamu,.. ayo tunjuk tangan :D
), ak ga akan ngomongin disini =)). Abisnya dia juga bukan orang yang akan seneng kalo aku
publish
kisah kita berdua. :P Yang jelas, sampe sekarang, alhamdullilah, baik2 ajah. Dan tahun ini aku ga akan ngomel2 seperti yang ak lakuin di tahun lalu sama yang lalu :P. Yang jelas (lagi neh :D ) tahun ini bisa dibilang aku full with love. :P Yah, Thank God I found him :)
3. general life.
seperti tahun2 sebelumnya, ada masa hitam dan masa putih dan juga abu2 :P. Aku ga bisa bilang tahun ini black year, karena yah memang ada masa2 putih bahkan merah jambu :p. Tahun ini kayakanya taun terbanyak aku ke luar negri. Dari Paris, Belgia, Italy, Jerman, Indonesia dan soon ke Sweden. Alhamdullilah aku bisa ngelakuin ini. Karena emang dari pertama aku sekolah ke Belanda salah satu impianku adalah jalan2 ke Eropa. Aku ga mau numpuk jalan2 di akhir taun ke empat ku :), soalnya masih banyak lists jalan2nya neh... yang paling pengen ke Austria ama ke Spanyol. Masih menunggu di budget selajutnya :D. Alhamdullilah, 3 negara dari tujuan jalan2 ini ak lakuin ama dia :P.
Aku ngerasain patah hati, jatuh cinta, masalah keluarga dan pertemanan di tahun ini juga. Buat pertemanan, kayaknya hukum seleksi alam berlaku di sini. Perlu banyak tolelir,kesabaran,dan membuka hati dan pikiran.Ga semuanya setuju ama yang aku pikirin dan ga bisa aku setuju ama semua yang aku pikirin. O ya, satu lagi, tahun ini saya termasuk 'sabar' dalam me-manage 'anger management' ku. Tapi tahun depan, saya harus lebih tegas tapi bukan keras kepala.
Soal keras kepala? Yah, itu mah
run in the family
,
ngeyel dulu baru mikir
. Setelah ak liat2 ke masku dan ayahku, dua2nya ternyata juga seperti ituh. Jadi ga heran donk kalo aku juga gituh :P. (kamuh,tetep yg sabar yah :D)
Nieuw Jaar
Resolusi tahun baru? Iya dunk, biar seimbang.. kalo di laksanaiin to gak seh urusan nanti :P hueheheheh...
1.Time Management
Ini yang keluar pertama kali kalo ak mikir tentang resolusi. Bukan hal baru, saya sudah sangat parang dengan ini. Dari pertama kali saya membuat personal reflective report di period 1 tahun pertama.:P Sudah 2,5 tahun disini masih saja begitu.. Jadi, bagi saya ini isu pertama yang mesti diperbaiki. Untuk menghindari stress yang berlebihan karena bad time management ini. Tapi memang, gimanapun, ide2 saya berjalan lancar kalo deadline sudah menjelang... :(
2.Menulis.
Saya mau memperbaiki gaya menulis saya, kalau bisa saya pengen belajar creative writiing lagi, dan saya ingin tulisan saya bisa terbit atau ter-publish di sebuah media. Pengen banget buat novel tentang Belanda. Biar ada kenangannya gitu :), tp yah let see...
3.Final year
ga dipungkiri, saya sudah deket dengan final year. Tentu aja, ak mau lulus tepat waktu dan kalo bisa ngelanjutin S2. Kalo ga S2 di Eropa yah aku pengennya di luar negri lagi entah di Singapore ataupun Aussie. OK, ga murah.. jadi pengen dapet beasiswa.. tapi, kalo mau beasiswa berarti mesti kerja dulu. Hmm... Aku belum tau apa ak bisa 1,5 tahun lagi bener2 back for good dari Belanda.. Kayaknya, ak dah membuat 'home' disini. Aku dapat ke'nyaman' an ku, teman2 ku, dan rasanya ak lebih hafal jalan2 disini dibanding di Indo. Aku tau gimana aku pergi dari tempat A ke tempat B. Aku bisa sendiri tanpa dikhawatirin orang2 lain. Tapi yah emang, my loved ones ada di Indo. Tapi, ak ga pengen mereka menjadi penghalangku, seperti aku ga ingin menjadi penghalang mereka.
Huf.. mulai emosi otak inih.. udah deh, ga baik...
terimakasih,terimakasih, bagi mereka yang udah meluangkan waktu mereka yang berharga untuk membaca curhatan panjang lebar. I really appreciate that *hugz*
bulan,
d*mn, tahun depan dah 21 yah :O