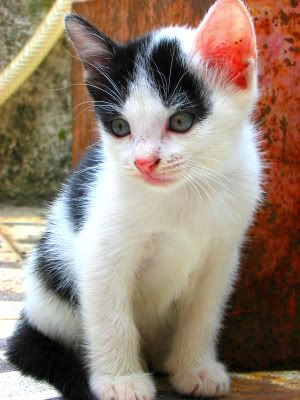 cute, isn't it?
but the eyes just looks.. alone and lonely..
:)
anyway.. may i have one?
really really wanna have a cat..
jadi kan bisa dipeluk peluk, d elus elus, d rawat, d manja...
pengeeennnnnnnn............
kapan itu pas d rotterdam, ak masuk ke toko yg jualan pet stuff..
kebetulan saat itu saya bersama cat lover, dan kita membahas
"kenapa kucing selalu dibilang sombong dan maunya ama yg kasih makan doank?"...
well,somewhat it is true.. tapi, ada satu fakta..
kucing itu setia ama salah satu dari orang d rumah itu..
jadi kl kamu menjadi orangnya, wow...selamat..
anda sudah menaklukan satu mahkluk egois.. :D
somewhat, i just feel that in my life before (padahal ak yo ga percaya) ak adalah seekor kucing... :D
makanya sekarang manja dan egoisnya masih ada... :D
percaya ga percaya... =))
bulan
p.s: postingan ini ga guna banget seh... :D
p.s2: ben, sekali lagi saya pasang foto yg anda buat.. =)) dan dari dulu saya selalu tanpa izin mempublish karya2 anda.. ga dipungut bayaran kan? :p
p.s3: you are so talented, honey.. and i do adore you :D
p.s4: hmm.. ngmg apa lagi ya...
p.s5: baru sadar, saya lagi denial yah...
p.s6: hmmmm *mikir
p.s7: udah ah.... :) :-*