present you.. my Koningen-dag..
so, the day was starting from 10:30 oclock, me, tanti, adit were going to diemen centrum, which is only 5 minute walking from my house, :D, and we were visiting my friends, laura and neo, stand. They were selling some cute stuffes from Chinnese. :D
i also got nice necklage :D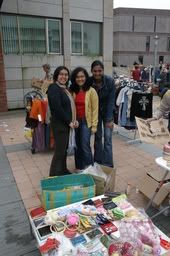 this is me, tanti and laura in front of her stand, posing.
afterthat, we decided to go to Amsterdam.. since this is my first day enjoying feest (party) in Netherlands, yeah.. because last year
i was working 9 hours
, i was excited :D, we were going there with the trein.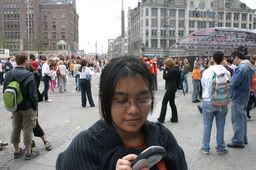 me in the front of oranje-oranje in Dam Square
*what were i doing? :P
and after meet some friends from Enschede, we decided to continue to go to vondelpark trough kalvestraat, muntplein, leidseplein, vondelpark that takes about 1 hours. And wow, i was amazed with the oranje crowded, party spirit , loud music from that Dutch people did.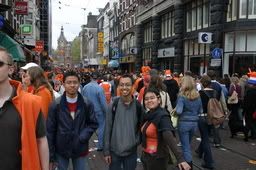 me and some friends was posing in the front of oranje crowded in Leidseplein.
after we came in Vondelpark, me and Enschede's friends was split up, i will go to PPI Amsterdam stands in overtoom, so i called jihan and upik to meet in somewhre at Vondelpark ( when i said somewhere, its really somewhere since vondelpark is so damn huge ), when i was alone and looking for jihan and upik, i was searching on vrije mark (free market) in vondelpark and also bought apple tart (1,5 euro)in one of children stand.
In vondelpark, there were so many kids perform themselves (sing,dance, accrobate, etc)in order to get some euros :D, after meet with girls, i went to around vondelpark and got a frame (blue and moon's statue) about 2 euro. after finish, we decided to back to ppi amsterdam stand and help
mbak orit
who stay there with mas chauft.

we were boring to waiting the buyer come to us :P
Anyway, i am proud to say that i am a good seller , hoho!
so, thats the end of koningen dag journey. we were happy.. :D and tired as well
( thats so damn long journey, tough :D! and i had fun this day :) )
-----
nb: yesterday (5-6 may 2005) i went to brugge , Belgium, a nice city with lots of castil and churches with one of Michael Anggelo statue ; Maddonna and child.
had lot of fun there,, and tired because we had just walking lots ( i means LOTS ).
just imagine the city that Lima Sekawan do in their journey's books. An old europe with lot of treasury and antique stuffes inside and hide there. Lovely!
bulan