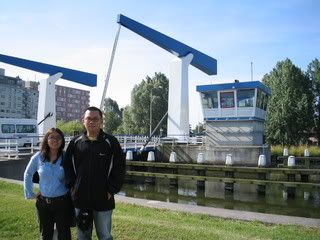 a Letter to my Brother..
hope you can find and read my letter..
when i was write this letter, i just have checked your
blog
, heared that you have been busy because your preparation of marriage and your new work..
i was smile, laugh, imagine you and your attitude , and also imagined dewi..
i am really happy for you, bro! got a new job, prepared yourlife and yourself for the higher position of life (marriage).
Indeed, my mind was return to our chilhood times, when we was playing together, when you have to moved to malang when you was high school, our family who always have ritual to have breakfast and dinner together, have you remember, mas? dad who sit with his newspaper, mom who looks busy with her childrens, prepare everything that we needs every morning, our uniform, our shoes, and push us to eat faster, grumbiling to us and our maid. I still remember the food in our breakfast; bread , chocolate jam, saussage or eggs. Sometimes, mom also make a sandwich to us.
in the morning, we have dinner together with 4 or 5 menus in the table. On the table, we talk together, talking everything happens to us. then, we go to our bedroom, and mom didnt forget to kiss goodnight to us.
when you have to moved to malang, d you still remember, mom and I was crying like a river when you smile and gigles ;) .
mom, who always call you, worried about you and your education... ;)
when you have to moved again to Aussie, well, i felti am really the only children in the family, but d you noticed, when you was home for holiday, i am little jealousy to you, because all of our parents attention had goes to you. :D
i am stil remember, i was sending you email about the condition of our mom, i didnt know your reaction, but i think, it was shocking, isnt it? ...
when you graduate your school, i still can feel your happines get the 'best student' title. yeah, even without 'cum laude' title. tough? :P
i remember, our mom was crying in the telephone , she was lying in hospital in that time! can not enjoyed his son's happiness.
still flying in my mind, our conversation in the car after we went to hospital, or all of the conversation in car. thats the greats moments . :D
you always make fool of me, make me angry and mad :P, never say that I AM Cute! ;( , always ask me many things as like i am A MAID !!! and if there one boy who looks like me, he always give a silly nickname to him (ex: jepang, keriting, kelinci)
but, you always listening my story, always be patient to my panics, always willing to help my problems, always (ehmm not always)agree to drive me (yeah right because he is afraid for my ride). :D
and now, look you know,
time is going too fast,
you will be a husband in 5 monts,
you will be a father after that,
and i am only have 5 monts to keep your status as -only- my brother,
because after this,
you ll be a husband
and you ll be a father.
even though, i know you still my brother.
Mas, you know, thats hard to me,
to accepting this condition,
i cant belive..
that time goes so fast,
and now, you are in the top of queque,
ready to take another step above in your life.
and I am smiling,
looking at you,
preparing my heart, my soul,
to also take anoter step of my life
be a aunty !!!!! (in next 2 years, i hope :P )
:D
haha,
I LUV YOU SO MUCH.